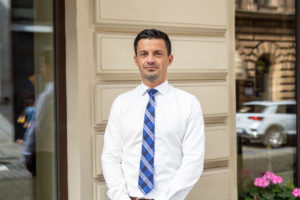 Václav's professional career began by studying at the Hotel school in Mariánské Lázně.
Then he left for two years abroad to draw new knowledge from gastronomy.
Experience from various hotel and restaurant establishments followed.
In 2008 he joined the team of Lukáš Koubek  & Zdeněk Pohlreich and started at Café Imperial, which begued him with his "spirit".
In 2016 he got an opportunity to participate in the opening of the new restaurant Next Door by Imperial, which became his heart affair.
Thanks to its discipline, detail and personal attitude, the Next Door by Imperial can enjoy a first-class experience.